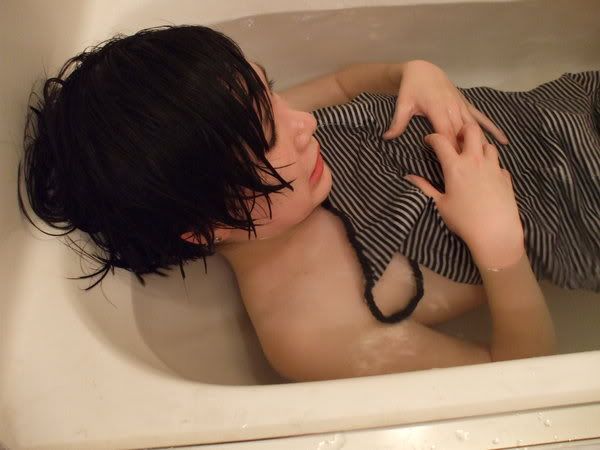 Lately I feel like I'm drowning. Then again, I've always lived on the edge of drowning, bobbing in and out of water sinking into my lungs and skin. I can't find the air this time, the pressure collapsing into my throat like choking and crying and being unable to suffocate or cry all at once. This is making me re-think some archives of research I've done on drowning, the idea that almost everyone has a drowning story and very often is considered a normal part of someone's life like their first word or first step. But what if you can't stop drowning? You're pushing at the water and at your hands as any attempt as a stable surface, which cannot hold you but only swallow you the way you're afraid to. Only honesty can sound this trite. I don't say this as a defense mechanism but to point out I know what you know what I know.
I have been on a daily regimen of ABBA and it helps, I promise. Sometimes I'm worried I'm stuck in this hormonal monster of thirteen and I'm one day going to burn all of my clothes and start embodying that epithet in bad eyeliner spirals and goth journals.
Random collages of information:
I have been on a trend of watching "Say Yes to the Dress", the stories suck but I like watching dresses (though so many look the damn same). So for variety, cool wedding dresses:
http://www.rhymeandreasoncreative.com/electronic_fashion/index.html
Not for that reason, but totally work as cool wedding dresses with LED lights
By Carasan
YSL 1965.
Not a new design but kind of fabulous as a wedding dress. Paco Rabanne 1967.
An excerpt from Inuhiko Yomota's book
In the Fog
(Kiri No Naka) of one-time-canabalist Issei Yomota:
Regardless, I continued,
"Both here in France and in Japan, everyone's trying to work you out. Nothing like this has ever happened before."
"Psychiatrists are saying all sorts of things. And so are the newspapers."
"What do you yourself think?"
"About what?"
"I mean, there are all these different theories about why you did it, and everyone's talking about what you're really like, although no one really knows…"
"Do you know yourself why you did it?"
"Not really… It's very difficult to explain. I mean, if I did know, then I probably wouldn't have done it."
"You could be right."
"But then again, I have these very strong feelings about why I can't understand the feelings I have. And that really bothers me…"
"Huh?" He had lost me. But at the same time I felt I had discovered some secret deep within him. I looked at him. He had been staring at the ground as he spoke, but he suddenly raised his eyes to mine and looked me hard in the face.
The book transcribed in English so far:
http://bookreviewsjapan.wordpress.com/index/
On a lightly treading end, I must hock my awesome-blossom friend Meg's upcoming blog, keep it on tabs and check it out! :
http://eyeballjellomold.blogspot.com/
Current Mood:

tired

Current Music:

ABBA - The Winner Takes it All.
Popular culture inflects its changing tastes into the consumable interests for their current desires. It's natural to really dig something and then get sick of it, it's certainly not unhealthy. But now that the snarky 90's generation is fading into this nice guy phase, there seems to be a more obsessive need to prove how "real" someone is and being genuine (which often translates to sentimentalism) in art. As someone who is often receiving disapproving looks for spewing whatever pops into my head, this comes as something I am hesitant about. The way you feel and how you're presenting such emotions are often two different things.
For instance, the retread of American culture in fashion as irony, the idea of wholesome all American in grandmother sweaters, slogan t-shirts, polaroids and popularly giant reading glasses. It's a nod to what people have grown up with, a sense of comfort and nostalgia recreated in a trend as satirical to have made a 180 degree turn as satire-but-really-upholding this look as honest. There is a sense of challenging this ideal or submitting to it in order to respect it as well critique it. I tend to circumvent this argument as much as possible because like the question of "is it art?" it's all a matter of "it depends" as the answer. On the one hand, asking about how genuine it is or questioning the validity of the art is completely exasperating in how irrelevant it is and on the other hand there is nothing more relevant than these questions outside of the art sphere.
I bring up the PS. 1 Brooklyn is Burning debacle of Ann Liv Young. Read these to get updated if you're behind:
http://gothamist.com/2010/03/01/ps1_censors_performance_art.php
http://www.artfagcity.com/2010/03/01/how-much-pee-in-pan-will-prompt-museum-intervention/#comments
http://beestingbrose.blogspot.com/2010/02/brooklyn-is-burning-morning-after.html
The idea of respecting art has become so important that the ability to challenge it has become more difficult. The first performer, Georgia Sagri, was creating a performance discussing the idea of genuine-ity with her "Jane" character which was fine but because Ann Liv Young challenged it and attempted to derail it with her known "antics", she becomes the empty aggressor. Was she aggressive and rude? Yes, that's what her art is known for doing, as an artist, viewer, participant, curator, do your homework. Whether you're a fan of Ann Liv Young or not, her ability to challenge the, let's face it, sterile contemporary art world is an important wake up call that artists need. Art Basel? Armory Show? This goes out to you. As somewhat of an advertisement, I suggest if you can, see Ann Liv Young's Cinderella performance going on now/soon as The Chicks on Speed blog show what she's capable of and Piero Manzoni reference:
http://www.chicksonspeed.com/2010/03/annliv-young-performing-cinderella-inkonst-sweden.html
From
Bad at Sports: Contemporary Art Talk
This also goes along with Anya Liftig's doppleganger performance during Marina Abramovic's performance at MoMA.:
http://bombsite.powweb.com/?p=8919
Her recount at her website:
http://www.anyaliftig.com/index.php?/performance/the-anxiety-of-influence/
Amir Baradaran's performance during Marina Abramovic's "The Artist is Present":
http://www.nyartbeat.com/nyablog/2010/04/the-other-artist-is-present-amir-baradaran-at-moma/
Unlike Amir Baradaran's "The
Other
Artist is Present", I agree with Anya Liftig's discussion about her performance, it is much more successful in dueling Marina against Marina by playing by her terms rather than going court jester crazy like Amir Baradaran's approach. By my previous argument, you'd think I'd disagree considering my support of Ann Liv Young. But in this case, this more subtle approach is daring in this context by subverting the game as Anya Liftig plays in it. It respects the work and approaches it with the utmost "genuine-ity" as a student engaging their teacher as well as confronting it.
The ability to continue and raise this discussion of intention and authenticity as well as challenge it's overall importance is incredibly striking and amounts to very strong work.
Maybe I'm stale in my beliefs, but noteworthy performance has to affect me whether good or bad, in a way where I have an engaging response to it. Now hold back your chakra energy sticks and pages of self-deprecating narrative, I'm not going that far in the emotional vortex. Lately, as Michael Kors would say to a little designer pre-boring seasons of Project Runway, is "I'm underwhelmed." I have entertained the thought that maybe I'm getting a little sick of performance, but if I was there would be very little to put on this journal. It seems like I just wait for performances to realize the futility of themselves and finally end the damn thing after two hours of watching them tap their foot on the ground. I love endurance performances in watching the dilapidation of the artist through their rehearsed movement, but if it's just you meditating for hours on end, you better be in a gallery where I can leave or happen to be Yoko Ono. Jus' sayin'. It seems to be either bad 70's body-centric art, monstrous amounts of meaningless objects from the thrift store or 80's inspired internet seizure work. My threshold for mental pain is considerably low especially when I listen to critiques discussing the depth of purely unintentional lameness and make various comparisons to seminal artists to try and find something in it's mediocrity (I am guilty of this more than anyone else, if that puts things in perspective). But I think I can handle all these things as neutrally as possible, but one thing that will really tick me off is when people try to manipulate people's sense of empathy in order to make well-liked "genuine" art.
Current Mood:

tired

Current Music:

Ke$ha - Your Love is My Drug. Yes, you heard me.
I have a bunch of posts I started last semester for the journal, so I'll try to get those done along with my general school work. Some performance, some exhibit stuff, etc. etc.
First off. What is going on with this whole Tino Sehgal craze? I'm in the dust on this one. I can't have an established opinion on him as I haven't seen his work in person though the whole "not being able to photograph" thing I kind of roll my eyes about (which you could further understand by reading this:
http://www.artfagcity.com/2010/01/18/if-a-tree-falls-in-the-forest-will-anyone-hear-tino-sehgal/
).
On the already dated & overwrought blog vs. magazine issue:
Addicted to style blogs, guilty as charged. I read Style Bubble, Diane Pernet, especially anything with great commentary like Project Rungay. I can't say I read it everyday (other than PRG, those boys are amazingly funny) but they are fantastic. It's sometimes satisfying to look at clothes I could never afford in my life, what can I say. Though that jealousy/fear of being outdated/whatever thing people have with the young bloggers I can understand, but I love them too. At first I was a little "but are these kids who are writing or are these just tumblrs without content?" but then I saw that little munchkin in big glasses and a bow and despite how much I would love to say I hate kids, that Style Rookie is freaking adorable and her blog is equally satisfying and well done. Sure, there's some subtext and cultural references that are a bit beyond her, no argument here, but I'm not going to underestimate her simply because I could win in a high shelf reaching contest. Part of this newer generation and satisfaction in it is stripping away a lot of the conceptual aspects down to "can this image and lifestyle be sold or what?" They also make fashion accessible and dare I say, expand the stale "riot girl" generation like zines into something that can be read globally. I'm going to stop myself before a Miranda July-type discussion is made.
So yes, I am fond of the wide-eyed and adorable nerdette Tavi Gevinson's Style Rookie blog and think she really represents the new generation that has been raised through technology and the instant gratification culture, kind a of Sadie Benning lite of blogging. Her assets are also her downfall. She only knows what's new as her history and has no pretension through experience.
Like one of her slightly recent entries about the Girl Power movement, she was reading about it and really hyped about it but only through a secondary source and hadn't listened to many of the bands involved. There is a different experience to having lived through the movement and having had those posters on your wall when they were fresh instead of the reproductions, like buying Pink Floyd records and seeing them in concert as opposed to having their logo reprinted on pajama pants from Hot Topic and seeing the tribute band. Or seeing Edvard Munch's The Scream in person especially before you've seen the postcards, mugs and t-shirts that almost ruin your ability to purely experience the medium. So now that she's really into things that can be referenced like The Virgin Suicides and Riot Grrl and all that, it's sort of tacked on loosely and not quite on point. She's growing and still becoming a person and that's what is the most interesting, her evolving and not necessarily this prodigy opinion on culture which is one that is needed in this internet vortex. Good, bad, whatever.
I think I'm actually more productive when I update this thing, so I am getting back into the swing of things. Since I'm the main person who reads this, we'll pretend there haven't been any lapses at all in my writing. Perhaps I need this outlet? I'm still stressed over business from last semester spilled over, I'm going to try to shut it down like Rachel Zoe at a Chanel runway show. And like the first time I started this journal, I'm the outcast of another class again! Feign surprise. Okay, enough gushing with emotions, this isn't ain't cable.
Current Mood:

tired

Current Music:

Monk. I'm television-desperate.
- Okay, guilty pleasure (or not guilty, I prefer to be out and open) is Alexi Wasser's "A pep talk in the form of a slap in the face in the form of a blog," which is one of those "boys from a girl's perspective" sort of thing but done in a way that can make you cringe in the best way. Even if you don't like what she says, you can't help but enjoy the way she says it:
http://www.imboycrazy.com
-The male equivalent & equally compelling version of imboycrazy (and also the East coast instead of the West coast to continue opposites):
http://www.boyslifenyc.com
- Alexander McQueen who is always making us wish we could wear his collections every day like a Forever 21 blouse (though never the shoes unless we hired Ancient Egyptian assistants to carry us around), his Spring 2010 collection (old, but still fresh for me). As Stacy London would say "Shut up!", combined with his resort collection and every other ever collection, serious clothing envy + desire. I'd rather not mention these collaborations with Target, they're off-putting, I think the H&M designer team ups aren't bad, except you could still just buy from the designers for a little more.:
http://www.style.com/fashionshows/review/S2010RTW-AMCQUEEN
- The Living Library, which organizes people of various ethnic, sexual, gender identities that can be "checked out" in the library by asking questions from the people in an effort to confront those that are stereotyped and just to learn about different people from different walks of life. It's international, I think the first one was in Sweden? Not sure, but they have had some good news coverage on it and a mention on G4TV.
http://www.living-library.org/
- Not someone I'm obsessed with or anything, but an old-ish (as it was pre-closing of Bellweather Gallery) interview Melanie Willhide in www.myartspace.com/blog/
Q. You studied at the Rhode Island School of Design and Yale Univerisity School of Art. How did working in these two art departments shape you as an artist? Can you tell us about the departments? Who did you study under?

A. " At RISD Ann Fessler and Deborah Bright. At Yale P.L. Dicorcia, Gregory Crewdson and Cathy Opie. In undergraduate I learned to ignore my body and work from my mind. At Yale I learned how not to be in the world. Both departments are strong but for almost opposite reasons. RISD: Girls teaching girls. Yale: Boys teaching pretty talented girls..."
- Excitingly, they've already started filming in NYC on the Bravo reality show where artists compete on
The Untitled Art Project
. It's going to be sad/hilarious/dramatic, which is always needed. I'm really hoping for at least one performance artist that believes in feeling people's auras.
I'll get to some artists soon enough, probably when I'm back home in Brooklyn.
I don't get anything done these days, I am going to need to start injecting coffee in my veins again no matter how anxious/depressed/crazy it makes me because it gets shit DONE. I need some for serious-serious updates.
Current Mood:

sleepy

Current Music:

30 Rock.
Hedwig and the Angry Inch
with the biographical movie about Annette Kellerman starring Esther Williams,
Million Dollar Mermaid
. It's a summary/description of something she's making, I'll post pictures later if I get any.
(
Let the show go on
Collapse
)
So my friend is making this cool costume project for class and the idea jazzed me, so I convinced her to let me post it! It combines the movie
Current Mood:

tired

Current Music:

30 Rock.
I went to the opening of
parades & changes, replays
back in early November at the MCA, Anne Collod's collaboration with Anna Halprin on Halprin's original postmodern dance piece
Changes
in 1965. I think this piece should be a defining example of a successful partnership at work, especially in trying to highlight something historically. A lot of times when reappropriation is at work, the artist has to wait at least 5-10 years when the seminal piece has been around a bit but as a side effect, the piece is often dated in itself and becomes a rather redundant act in futility.
parades & changes, replays
definitely did have those moments, especially in the first part with people doing the theatrical overlap of language and the changing and unchanging from suits to nudity which really made me groan. That type of act in the 60's was certainly newer and more controversial as a stylistic choice, but in 2009 (especially after many, many, many student performances & things in the East Village), even for dance audiences it was played out. I did appreciate the beautiful forms of shadows and sculpture that were created but they were overshadowed by the faux shock value. This isn't to say nudity should be removed from performance, I would not be a good advocate for that, but there should be more thought behind how it is used as a tool as well as the venue it is being seen in, in relation to the type of audience.
And a note to set directors: Just put the actors in place in the audience, BRIGHT green tape kind of ruins the mystery of "oh, the beginning part is in the audience, watch for inconspicuously dressed people who look serious." Draw a map if you have to.
I spent a good amount of time mentally debating the space I was viewing the piece in because there was a battle of formal and informal aesthetics that some parts seemed they fit in the MCA auditorium and other times seemed more fitted for some type of loft space, but I think that contrast worked in their favor because there were a proper balance of elements, much like the partnership. Anne Collod brought a lot to the table that shouldn't be dismissed as a simple repeat of Anna Halprin, especially in making the piece more relatable to a current audience while still respecting the grace of movement that Anna Halprin is known for. The vogueness of random household objects is certainly a tired and popular medium in art right now, but the new transformer type of monsters that were created when dancers were layered in them was extremely lovely. And the part where they all had raincoats on? Shut up. That is so wonderfully high fashion too.
I don't mean to write out Anna Halprin from her own work either, the part where the dancers ripped out bunches of butcher paper with well placed spotlights in a flurry had this sort of beautiful war taking place was beyond moving, I don't know who couldn't be transfixed by that when seeing it directly, there was something very political about that act that remained relevant as well as the part where colored blocks were moved and jumped on like an animated Piet Mondrian painting which was a tad historical, but still kept up newer dance elements. At the end, when the "transformer people" walked out of the auditorium while still being filmed on the street, it was just so funny and exciting for the whole audience as they drifted away like a strip of plywood on a river. It was just the perfect blend of elements. The Q&A session was worth listening to though I must confess in my ultra American-ness, I couldn't understand a lot of it due to accents, but I think Anne Collod was good at discussing her concepts that shined through the performance. The questions were a tad painful like someone asking if the raincoat part was orchestrated or whether it was a coincidence, common sense should've passed through at least once. Aside from that dilemma and a weird old guy who didn't seem to enjoy me sitting next to him, it was the best show I've seen at the MCA so far and would like to see stronger work like that on exhibition than some of the past efforts.
Student events you should go see around Chicago this weekend-ish:
-On Friday, my friend Camila Rosas will be in this show called Gifted from 6-9 PM where there will be fun learning sessions and things that sound a-mazing
http://chicago.going.com/event-696398;Gifted
-Alas, I won't be able to see Camila's since I'll be at this event, also from 6-9, where Chloe Seibert's L.E.A.R.N. will be doing a performance
http://www.facebook.com/home.php?#/event.php?eid=334191350022&index=1
-Object of the Game sounds awesome on Saturday 7-10 P.M, go see Nick Williams
http://www.chicagoartistsresource.org/visual-arts/node/24330
I've been behind on reports and everything (still am), but luckily was given some time to write this long overdue review of the Anna Halprin/Anne Collod show.
Current Mood:

sleepy

Current Music:

Lissy Tullie - Boy Boy.
Before you get all "Lauren, what the FUCK does this have to do with art, I'm sick of these bullshit entries that don't involve anything good, you're here just to generate fashion pictures" or "blah blah blah evil evil evil!" on me, drink some ice cold pomegranate juice and chill out.
So I didn't sleep one night, getting sucked into research instead of doing reports as per usual. I occasionally wonder if my schooling methods are counter-productive, I do love to research and discuss, but when you've got to deal with the redundant formalities of some assignments, it's difficult to feign interest. ANYWAY. Somewhere along the line I was getting re-introduced into that band, Prussian Blue. If you avoided the whole media drama, Prussian Blue is a fraternal twin sister pop group supporting white supremacy (or as they prefer, white separatism or white pride). Personally, I'm not particularly threatened by them, I don't think they're going to lead to Holocaust, The Sequel.
There are two documentaries featuring Prussian Blue, one is a documentary following them around for a year,
Nazi Pop Twins
directed by James Quinn, which was intriguing to watch equally for the complicated dimensions of the twins and their family, but also the director who seems hard pressed to define the situation in the way he wants to see it which ultimately brings the documentary to an end when he finally confronts the mother about her viewpoints affecting her children. It would certainly be tense to be spending all this time under the rouse of making a documentary for them when having an ulterior motive and the director's inability to open him up and see things beyond his limited perspective and preconceptions is detrimental to the work he is trying to make. Though asking for an objective documentary would defeat the purpose, I suppose. I would more likely recommend this second documentary,
Louis and the Nazis
directed by Stuart Cabb but written by Louis Theroux (who stars in it, part of his Weird Weekend series), which doesn't just encompass Prussian Blue but the neo-Nazi culture in America itself. Theroux doesn't have to force the discussions, he is comfortable and just enjoying the experience knowing better that what he wants to convey will display itself on camera and doesn't desperately try to villainize these people but to alter the stereotypes we have developed about white supremacists. I also recommend his book,
Call of the Weird
on subcultures. The interesting part is these are both British directors coming to America to dissect counter-culture that is also present in Europe. There is a certain exoticism in having British documatarians covering something American people should've already covered, but I guess we're too busy filming shows like
Taboo
also internationally. Plus there is a larger growing population of Neo-Nazism in Europe that seems to be more inflamed than ours, so is it an attempt at anti-American sentiments or what? A question I'm not qualified to answer, but I enjoy when BBC covers these types of issues as well as the RealDoll & Reborn community specials.
Certainly we bring up the First Amendment and "I disapprove of what you say, but I will defend to the death your right to say it" in Evelyn Beatrice Hall's summary of Voltaire often, but it's starting to become rarer by how much we mean free speech and not speech so-long-as-we-agree-with-it. We can get angry and violent in our accepted ideas of wisdom against white supremacy & our stereotypes of them, which only feed into the mindset they perceive of us. Whether I agree or disagree is not important, I do think they have a point about an anti-white culture being bred (which is really more of a coincidence since they've been saying that for god knows how long). There is more of a desire growing for "ethnic" people, especially multi-ethnic which can be attributed to diversity but also contributed that the minority is becoming the majority and therefore taking it's chance at being the desired nation. I experience this a lot when people tell me my Irish & German side "doesn't count" because they prefer that I am Asian, perhaps why all the hapas I know are trying so desperately to be fully Asian. It's less enlightened and more of an ongoing fashion trend, as much as it is positive to celebrate our differences, it can also become racist. We often attribute racism as a Caucasian person as the perpetrator, but it is not blasphemous to occur in the other direction. Either way, there is a certain taboo in saying something "anti-ethnic" but much against "white people". To play the other advocate, compare the 1960's revolution of Black Power with the 1990's rising White Power. They are certainly not the same thing, but we should acknowledge the similarities in methodology. I tend to get flack whenever I try to bring this up only for the sake of debate, but I think we're prejudiced enough as well and should at least be able to admit to it rather under the all mighty rays of being "open minded liberals". This also should be discussed in how we are quite comfortable under the identity of white but we can't quite categorize black as a race.
I ventured on the StormFront forums, somewhat apprehensive in assuming to only find generally long discussions about the evil Jewish & Black race and assorted racial slurs, but it ended up being less two dimensional than that. Yes, there are still a lot of incredibly uninteresting conversations about how wonderful white people are. But, I was interested in 3 things:
-
The Dating Aspect
: Of course they should date each other! Why hadn't that occurred to me? People state their ethnic background and age but debate a lot about "how white" they look as well proper heights and women wearing skirts and all of that. We all need love.
-
The Hierarchy
: I guess every culture has them, and especially with white power enthusiasts, that would certainly make the most sense. The order is (from highest to lowest):
1. Japanese (the conclusion seems to be they are pale, respectful culture, smart)
2. Korean
3. Chinese
4. Hispanics
5. Black, Jewish people & "everything else"
That doesn't seem to be just part of the white community; I've met a lot of people who have told me my ethnicities are "pretty much the same thing" and see Asian cultures as white adjacent. So much for the heart being more than the color of their skin.
-
The Modern Vs. The Antiquated
: I was lucky enough not to read too many lame flame wars by some random person invading their community with a bad joke, they're fairly well moderated. But I was really interested in the idea that some were "more tolerant" than others. That people would get angry when people weren't open to other ethnicities, mostly Japanese people, one person remarking "I would allow one in my home!" My mind sort of related this to progressive moderates and traditional republicans.
I feel like whatever statement I make it's going to be trying dull the blow and very "well I'm not a white supremacist, however…". It's a simple discussion. Race is certainly a dicey and predatory subject but hey, if you're open minded enough, you can dig it. This began more specific in my head, but as per usual when it doesn't all come out at once, it kind of fades the intensity.
Current Mood:

tired

Current Music:

Polaris - Waiting For October.
There is a quite few menstrual blood artists: Petra Paul, Vanessa Tiegs, May Ling Su, and Lani Beloso, to name a few. They all definitely straddle this issue of being irrelevant and cheesy in their desire to use their menstrual blood as a medium; the jaded art world is just not havin' it. But what makes their art less valid for exploring the female cycle not just as a part of "suffering" or daily life but the use of the material as a tool as well as the fear culture surrounding it in popular culture.
Petra Paul
Vanessa Tiegs
Lani Beloso
May Ling Su is one of the more recognized of the bunch since her scope is not limited to menstrual blood but also the pornographic depiction of women. However menstrual blood could be seen as natural paint or a textural version of the black and white photograph. The shock value is definitely low on the conceptual art end of the spectrum but hasn't been fully explored for what it can do as an aesthetic medium (Vanessa Tiegs somewhat works with this in her blood watercolors but the depth of subject is a bit lacking besides the overall image). Lani Beloso has this "my pain is my art" approach to her Jackson Pollack-eqsue paintings with menstrual blood, which to her credit she has various methods of applying the blood, but it's difficult to sympathize (she has menorrhagia, causing longer and more painful periods) for a biological issue that many women are afflicted with and have become desensitized to.
The issue that should be further explored is the overall snideness and inability to explore the nitty gritty (no pun intended, I swear) of a natural function of the body when in the art world we can accept Chris Ofili's elephant dung paintings as genius or Gilbert & George for their photographs using the words and images of bodily fluids. What makes menstrual blood wrong and taboo? Being affiliated with women specifically turns it into this "my pain is worse that your pain" but also this aggressively female presence that is often looked down upon as not being art that can be openly viewed by a general audience. This is pretty contradictory, considering how far art has separated from the general public into the fetishization of making art for other artists. I hate to make a misogynistic argument to this, but I'm more concerned that the fantastical view of the female body makes it difficult for art that combats this to exist. Yes there is the trite factor, the womyn's-studies-from-Smith-College attitude that makes us uneasy, but the inability to be vulnerable to bodily approach is becoming detrimental in the art world that is headed in a pop culture banality direction.
Now the image of the vagina. Metaphors, human existence, blah blah blah. The crafty etsy generation hasn't helped remove the kitsch value of the vagina because I am just not the type who would wear a self-portrait of my labia medallion to the post office. The vagina is used on t-shirts, pillows, weird dresses, the commodity of the vagina has created an overstimulation (no pun) of the iconography of the vagina, if only one could copywrite the vagina, they'd be Steve Jobs loaded (Bill Gates is just bigger than the vagina, sorry ladies). But my question is more how can the dick still be funny and relevant but the clit is this gross, passé cavern? It's a similar issue to how art about heterosexual relationships exists as a supposedly objective point of view but the same plotline in a homosexual context suddenly becomes "niche" art that is only catering to a specific audience. Part of this is the inevitable minority argument, though still strange since women have become the overwhelming majority in the United States, but the fringe culture (Jesus, it's weird jokes all over the place) of the vagina is of common acceptance as that.
Basically, debate this among yourselves. I keep having to put "it's not a joke guys!!!" in parenthesis because innuendo is just too damn easy.
Or art that is anatomically female-centric/uses the vagina. Is it me or the second you hear "feminist" in art the mind reels to images of a woman smearing Barbies with menstrual blood and talking about that time a man on a train touched them when they were eight? When did the legitimacy of feminism become so questionable in the art world and dismissed as irrelevant? What does Marina have to say about this? That sounds like something to put on a t-shirt and sell at Lilith Fair: The New Millennium. Actually I do respond to "women's art" rather positively even though I have this simultaneous aversion of addressing it by this limited scope.
Current Mood:

tired

Current Music:

Beyoncé - Diva.
Current Mood:

tired

Current Music:

Glee.
I haven't really been having artist crushes lately, which makes me very sad. I haven't even a fraction of the current knowledge of contemporary artists yet I am not finding anything stealing my heartstrings away and bringing me to this place of excitement/jealousy/awe. I am retreating to a fashion mode lately because that is the place where I have been blooming with joy, mostly in knitwear, not as much the general popular runway stuff since it's been kind of dour and harem pants-y lately.
But so far, some of the stuff I have been able to see (I am also suffering from artist lecture withdrawal):
However! If you went to the SAIC BFA show opening, you'd have hopefully seen Lucy Chinen's The Ex-Mermaid piece and been just as giggly and affected as most people I was seeing. It was a certain adorable little best friend of mine in a off-putting yet pathetic (in a good way) latex costume as Ariel the Mermaid in a kiddie pool with some sand on the borders of the floor, a beach chair and a video projected of the ocean and a live video of the bottom half of people who entered. It had an anonymous sexuality thing going on. The sound narrative had this dark humor vibe that was both superficial and deeply revealing ala collaboration between Bejamin Bellas & Justin Cooper, just hearing "I AM THE LITTLE MERMAID" repeated was both funny and really awkward.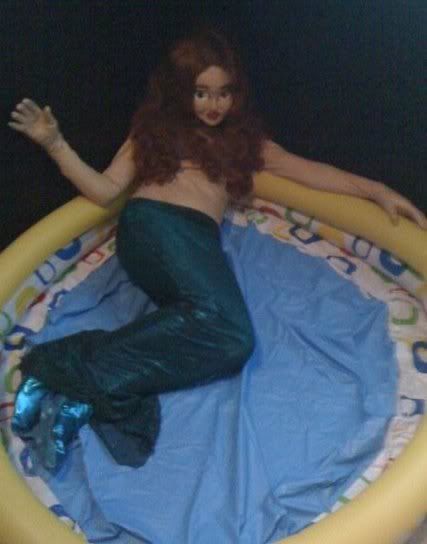 (Facebook picture)
The rest of the show had a few good pieces but it was mostly kinda boring. It sort of rested on nostalgia & simplicity for the most part, one piece as well as it's idea reminded me of another piece at either the BFA or MFA show a few years ago which only made me really sad. I can't figure out if it's better or worse than last year's, it's all sort of beige or offensively bad but it wasn't even offensive this year. I wouldn't be surprised if that was what happened to me by the time I was ready to graduate anyway. I just haven't been jazzed about the student art in so long, be daring, guys!
And on the same night, La Pocha Nostra's workshop performance I am just going to politely keep to myself.
I'll also try to update about ICAF (International Comic Arts Forum) that came this year.
A while ago I went to Anke Loh's lecture that didn't really teach me anything different from her work or anything, though I enjoyed it. I don't know if this counts as accent exoticism but I love the way she speaks and the way she says it. I don't think this with all Belgian or general European accents though. Her voice is like a cozy room of cucumbers & books while it's snowing outside. Okay, even I know that sounds creepy. But I like her matter-of-factness about aesthetic and just creating through doing. Especially when someone HAD to ask her about using "real people" and if it was a political statement, she was just very "I like what I like and I just prefer that aesthetic". Because asking her that question is the same as when fashion magazines make a "plus sized models" edition with a few size 6 models or untouched photos of pretty models. We get it, the fashion industry has ridiculous standards, but the discussion and attempts at protest are benign and ridiculous almost always. Back to the point, Anke Loh has a nice restrained aesthetic, sometimes she could afford to shake it up a little more, but it works especially in the dance costumes she's created.
I've used up my quota of exclamation marks for this week.
Tumblr makes me really anxious much like twitter. It's so unattainable and voided into it's own world of mysterious beauty and banality. I get lost into this vortex of archives and trying to find original sources of images I'll never find or understand. It is simple to the point of nothingness and has this visceral advertisement quality to it, trying to say as little and show as much as possible. And then I think about advertisements and trying to sell youth and gorgeousness and sex as closeness and it is all very depressing. It gives me a headache and I can't do it. I hope not too many people get as worked up about things like this as I do, the internet drains me a lot mostly about keeping up with the joneses and updating statuses on facebook. Quitting is too easy and difficult. Basically what I'm trying to say is: I need to get a life. That's it.